About The Sandpiper®
The Sandpiper® has all the features of the Sandcruiser® but smaller to perfectly fit a young child.
The Sandpiper's frame is manufactured from 316 grade marine stainless steel and is polished to mirror finish. The Sandpiper's® durability is backed up by Sandcruiser Industries Pty Ltd 3 year warranty on the frame.
The 'WHEELEEZ' wheels have a 12 month warranty and are suitable for use in most terrains (please observe tyre pressure recommendations).
The Sandpiper's® upholstery is manufactured from marine grade acrylic canvas, is 'UV' stable fabricated to manufacturer's recommendations and has a 12 month warranty.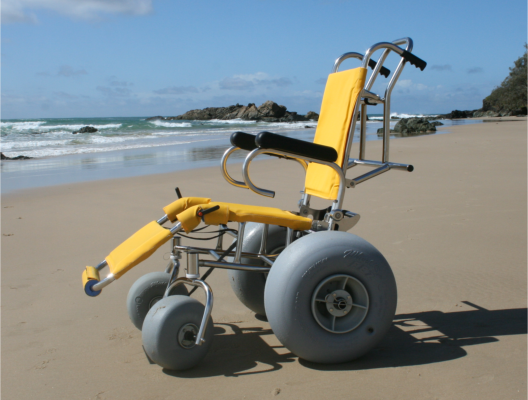 Features
All metal components are manufactured from 316L Stainless Steel with 600 # surface finished electro polished to a mirror surface, all tube 1.6mm wall thickness marine grade.
Seat height of 500mm allows easy transfer of patient from chair to chair.
No special tools required to dismantle for transport, the use of 6.0mm drop nose pins and "R" clips make dismantle and reassembly effortless.
Fully adjustable leg rest with padded hinge protectors, adjustable clamp handles with push pin allows handles to be re-positioned after clamping.
New design, all stainless steel pivot arm rests allows both arm rests to be raised for easy patient transfer.
Sandpiper® rides over sand, snow, grass and gravel surfaces absorbing shocks for smooth ride.
Front castors have a delrin bush with stainless steel bearings inserts to allow for a full 360 degree rotation to allow the Sandpiper® to turn in tight locations. The front forks are fitted with a quick release "R" pin to allow for dismantling for transport.
The anti tip / brake bar secures the chair in one procedure and is also fitted with a positive lock / release bar for added safety. The brake bar locks both rear wheels and when engaged prevents the Sandpiper® from tipping over backwards while making the chair stable for a safe patient transfer.
All assembly pins are secured to the main frame with 40kg nylon coated stainless steel wire crimp clamped for added strength (note note fitted to rear axle "R" clips).
Low tyre pressure reduces the risk of penetration of sharp objects and produces a very smooth and comfortable ride.
Upholstery is manufactured in "Docril" acrylic canvas which is rot, mould and salt water resistant, UV stable and is fitted with quick release buckles for easy removal for cleaning etc.
Seat belts are fitted to secure the patient in the chair.
The Sandpiper® wheel chair been designed in accordance with TGA requirements and has been approved (copy of approval certificate provided if required).
Snow chains can be supplied and fitted if required at an extra cost.
Download the Brochure
Videos
ARVE Error: src mismatch
url: https://vimeo.com/37084628
src in: ?dnt=1
src gen: https://player.vimeo.com/video/37084628?dnt=1Actual comparison
url: https://vimeo.com/37084628
src in:
src gen: https://player.vimeo.com/video/37084628